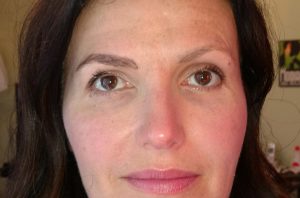 Clients and I both learn the nuances of eyebrow development from this point of view: "This is permanent folks and will be for years. Better get it right!" This is why the comprehensive consultation is so important. Some elements analyzed in this consultation included:
Horizontal misalignment
Right brow lower
Left brow higher
Wider lid on left
Right bone structure is flat and left is forward
I also analyze the skin undertones to develop the proper shades. This client has cool undertones.  Her father is from my country, Colombia. Her mother is American of English descent.
These observations create the foundation of knowledge to define the eyebrow structure that will provide beauty and harmony. You can see the differences between the before (her left eye) and the after (her right eye).
Every person is special and unique. As I interact with each client during the comprehensive consultation, I enjoy getting to know their personality. That also plays a role in what brow style will enhance his or her total look.  It is definitely a satisfying experience with a lot of fun and laughter.