Eyebrows frame the eyes to bring out their natural beauty and shape and to give expression to your face.
There are three methods of brows procedures:
  Shading which simulates eyebrow powder.
  Hair strokes to simulate eyebrow hairs. MICROBLADE is the technique of placing hair strokes with a manual tattoo pen using a slanted three needle setup. Individual hairs are applied after the eyebrow design is developed and measurements are in place.
  A combination of both shading and microblading which produces a dimensional and natural look. This occurs when using two shades of pigment – a darker tone for the hairs and a lighter one for shading.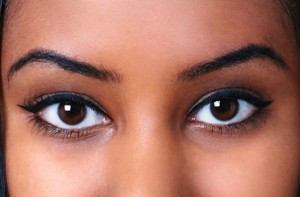 Considerations include choosing the appropriate colors, the most fitting eyebrow shape, how thick or fine the shape, which angles and curves to employ, and, where the brows should begin and end.  Other consideration include the space between the top of the eye and the brows, the fullness of the shape of the face, how large or small the eyes are, and if eyeglasses are worn.
The decision as to which method to use will be made during the consultation.
Complete re-design
Partial brows
Simulated brow hairs – microblading
Brow enhancement
Color corrections
Natural shading & microblading
Dimensional