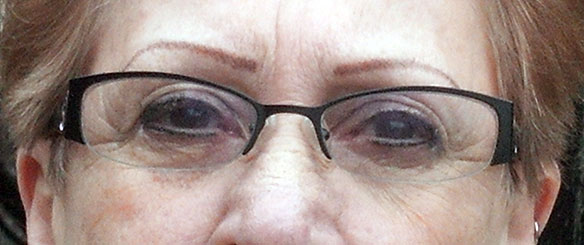 My 72-year-old client will enjoy retirement even more now that she can wake up and feel ready to go. For her brows, I used a warm, taupe brown color with golden undertones, and tattooed hair strokes for a more natural finish.
Since she wears glasses, I gave her permanent upper and lower eyeliner to make her eyes stand out. I mixed a deep brown and added a drop of forest green. The liners are freshly done in this photo, but will fade by 20% over the next three to four weeks.
I was happy that the spacing between the top of the glasses and the brows turned out in perfect harmony. That can be challenging. I do like to measure and re-measure since no two sides of our facial bone structure are alike.
In my opinion, a brow design should harmonize with the curves and angles that the facial structure provides. My client is petite, has a small body frame, her face is angular, wears her hair short, so the finished product should be in line with all these factors. Permanent make-up should enhance, and not be dominant in this case.  This is a natural look that my client will enjoy for many years to come.